Horizontal/Vertical Belt Guards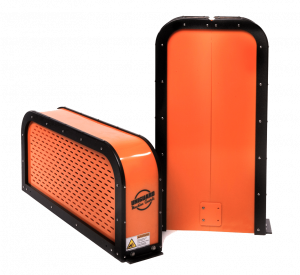 Created in 1994, the manufacturer's innovative UniGuard™ Machine Guard is used primarily to enclose a rotating coupling or V-Belt connecting the shafts of the driven equipment and the driver (usually an electric motor) to prevent harm to people working around the equipment.
The Horizontal Machine guard comes standard with a vented front panel and a solid removable rear panel.
Shaft holes are easily located and field drilled with a hole saw.
The one-piece Vertical Machine guard incorporates solid panels front and rear that are vertically split up the center. Shaft holes are easily located and field drilled with a hole saw.
These guards easily slip on over the equipment maintaining OSHA/ANSI compliance.
Designed for easy installation, the guards can be purchased with the proper diameter and style to cover a shaft, coupling or belt drive. Many of the direct drive guards are adjustable in length using common hand tools. The guards are split (clam shell like) so they can be installed and removed. Horizontal V-belt guards have slip off backs for easy removal.
UniGuard™ Machine Guard is committed to providing superior service by supplying innovative engineering assistance, professional equipment selection, competitive deliveries and service to all its customers.